A few weeks ago I had the pleasure of meeting another mosaic artist & mosaic tile seller. Michelle is offering tiles for mosaics done in a TOTALLY new way! I've never seen tiles done this way before & I was very intrigued. I contacted Michelle & asked her if I could get a sample of her work so I could see it. She asked my for a picture of my cat Zipper & THIS is what she sent me!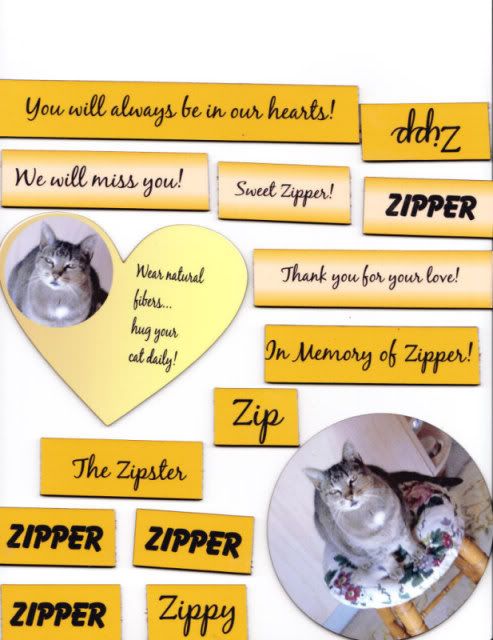 I was touched by Michelle's generosity as well as her ability to make these cool custom tiles so I wanted to introduce her (& her AWESOME MOSAICS!) to Blogland.
Here's what Michelle had to say about herself. I've also included some pix of Michelle's tiles and her finished artwork.
"I am 39 years old & I live in Southern Calif with my husband of 14 years (15 next month) & our 13 year old son named Joshua. Our home has four of our best friends living here too. "Apple" & "Cooper" are toy poodles & we have 2 cats that the dogs love to chase around named "Stormy" & "Josephine".
Hubby is in the Navy, & for reasons that are way too long to go into, we have been here in San Diego for his entire carrier so far. I'm from here (actually, originally from Long Beach) & hubby is from Kansas.
I'm blessed to have one of my sisters living just about 3 blocks away. She is also my best friend.
For years I was crazy into Miniatures. I built 2 dollhouses & many other things. I was the project coordinator for San Diego Miniature Crafters for 2 years & I loved it.
About 3 years ago I wanted try out mosaics. I didn't have any idea what it would lead to but I have dropped out of Miniatures completely & mosaics have taken over my life (typical story from what I am reading! Ha!)
Unfortunately I also have to work outside the home :( I waitress at a local restaurant & sports lounge. I enjoy it a lot but always wish I didn't have to stop working on mosaics to go to work. Such is life!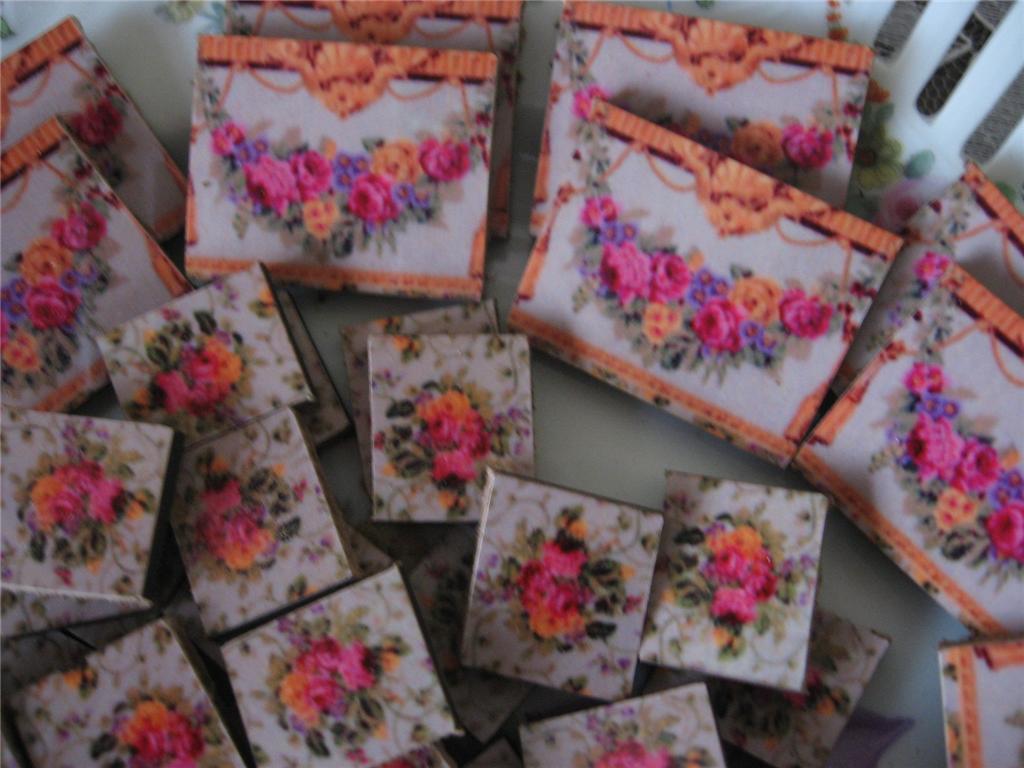 At this time, I have many finished pieces of mine in an adorable store in La Jolla called "Something Special". I decided to start selling mosaic tiles on Ebay because I realized what a great product we had for making tiles with our sublimation machine. We bought it about a year ago mainly for my hubby's business, but it wasn't long before I figured out what a great asset it would be to a mosaic artist. So, I started making tiles using sublimation. I wanted to make sure it worked without any problems first so I experimented with all sorts of pieces & designs. To my delight, mosaic tiles made from sublimation have been better than I expected!
You can create a design using the computer or transfer an image, print it out & sublimate it on to your tile. I have been using hardboard tiles instead of ceramic tiles because I have found that the hardboard goes almost perfectly next to stained glass & other nipped tiles & plates being just the right thickness. I still love to use nipped porcelain plates though. There is a beauty among some china that cannot be duplicated & I don't dare try.
When I first started mosaicing, I was discouraged about the problems created when I used thick ceramic tile next to stained glass, which is rather thin. I loved them both but found that I couldn't combine them very well without a noticeable difference in depth from the tile to the glass. This was frustrating for me because I loooooove to use stained glass in my projects. Using the hardboard tiles eliminates that problem because they & only 1/8 inch thick. The hardboard is very strong & durable & it's very lightweight making shipping cheaper for my customers.
I've been selling my mosaic tiles on Ebay about since October 2008. I am working on designing several styles that will mimic plate edges. You know how the prettiest artwork is always around the edge of your plates? I have a program that has tons of designs. Just wish I had more time!"
I know what you mean Michelle! Being addicted to mosaics is a full time job!
If you would like to view more of Michelle's mosaic tiles,
click here
to visit her Ebay store.